Training for a Gold Coast fun run or perhaps a marathon? Before you start there are a few important things to consider.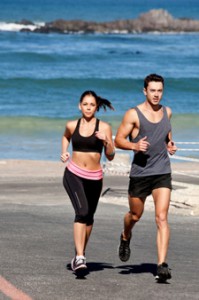 Is running a 10k half-marathon or even a full marathon on your bucket list? This type of training can boost your self-confidence, relieve stress, help you get fit and assist in making those lifestyle changes that you've long thought about. Though these benefits are incredible, you must be careful to think through the downsides of training.
It's all too common to push yourself too hard. You may have the improper form when running, making you prone to injury in your ankles, knees, hips and lower back. These problems are easily prevented with a few considerations.
How to Stay in Tip-Top Health While Training
You wouldn't enter your car in a motor sport race unless you were certain the engine was working properly. You'd take your car to the best mechanic around. But what have you done to make sure your body's systems are working properly?
There are a few easy tips for you to think about.
Have your health assessed. A good first step is to speak to your GP about your heart and lung function. As you begin to train, listen to your body. If you are continually sore, your body is trying to tell you something. If you keep pushing through that pain barrier, you'll create more damage that can be difficult to address.
Take small steps. You might not be capable of what you would've been able to do 20 years ago. Run in small increments at a slow speed and listen if your body tells you it's time to stop.
Get plenty of rest. Your body needs time to recover, and the recovery process happens when you sleep.
Consider your nutrition and hydration. Your meals should have a balance of protein, complex carbohydrates and adequate fluid.
 When to Seek Help
Use your healthcare professionals' guidance to your advantage. You may also have friends who are runners that can help you out. If you have ongoing pain or soreness in your calves, hamstrings, or glutes, it's probably an indication of a mechanical problem. You can discuss it with your chiropractor at Family Health Professionals Helensvale. We'll take a look at your mechanics and posture to discover the reason you're having this issue.
Contact us today to schedule your consultation!